Sandy Denny
Sandy Denny was born in Wimbledon, London on January 6, 1947. Her real name was Alexandra Elena Maclean Denny.
She began playing piano and guitar at an early age and song in her school choir.
She was studying at Kingston Art College when she made her debut at a London suburban folk club as the Scots Hoose, the Troubadour, Bunjies and Cousins.
She studied for a year, but then left college to pursue a career as a folk singer in the mid 1960's.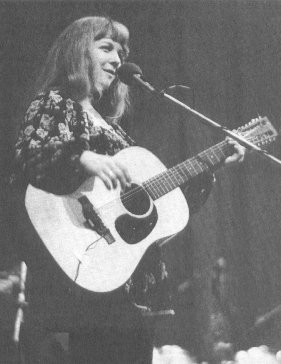 Sandy Denny (1947-1978)
For two years she worked solo, gaind quite a reputation on the British folk scene.
She made a number of apperances on the BBC's A Cellaful Of Folk radio show and,
after cutting a pair of albums with veterans Alex Campbell and Johney Silvo, She joined the Strawbs in mid-1967.
Their recordings together, unreleased at the time (they later surfaced as the album All Our Own Work),
included an early version of the song that would become Denny's signature piece,
the impossibly moving and implausibly mature (she was just 18 when she wrote it) "Who Knows Where The Times Goes."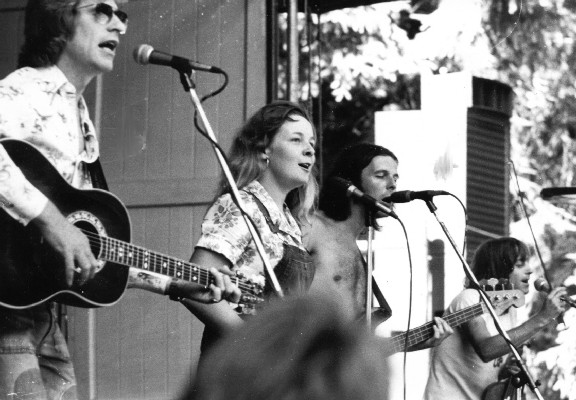 Fairport Convention
In May 1968, Sandy joined Fairport Convention replacing Judy Dyble.
As lead singer for Fairport Convention she was instrumental in introducing traditional folk songs into the group's repertoire as well as some of her own material.
Sandy recorded four albums with Fairport Convention at this time: What We Did On Our Holidays, Unhalfbricking and Liege and Lief as the most important folk-rock album and Heyday as a collection of radio broadcasts.
Toward the end of 1969, Sandy left Fairport Convention and formed a new group called Fotheringay with her husband-to-be Trevor Lucas.
She dominated the Best Female Vocalist category in the then-prestigious Melody Maker readers poll, winning it outright in both 1969 and 1970.
Her first solo album proper was 1971's North Star Grassman And The Ravens.
And her second album, 1972's Sandy, too, was capable of some astonishing changes in mood, swerving from country rock to bold a cappella.
Live studio tracks recorded for the BBC from that time were later released on the BBC Sessions 1971-1973. And her most ambitious album yet, Like An Old-Fashioned Waltz was released in 1973.
This album was produced by Fairport Convention Gutarist Trevor Lucas, and even as they worked on the record that summer,
the couple were looking forward to their wedding in September 20 and after that, her return to the group.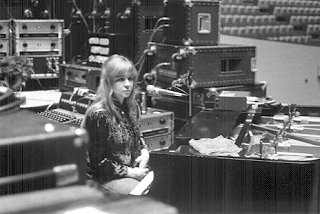 Sandy rejoined Fairport Convention in 1974, which included Lucas and Donahue.
She appeared with them on one studio album Rising For The Moon which again immediately established Sandy as a vital member of the group but arguments within the group made her leave again in 1976.
Her career undewent a slump and it was rumoured her private life did too. Her final album Rendezvous was released in 1977.
This album is a darkly contemplative-some say premonitory-album.
She was drinking heavily and she had recently begun suffering from blinding headaches and momentary blackouts.
This album is undeniably colored by her fears. And she began planning to move to America with Trevor and their baby Georgia (born in July 1977) to start a new career.
On April 18, 1978, She suffered a brain haemorrhage after falling down some steps whilst at a friend's house and was immediately rushed to hospital where she lay in a coma for a week.
And she never recovered. She died on April 21, 1978, aged just 31, and was buried in Putney Vale Cemetry.
Her last concert on November 27, 1977 at the Royalty Theater was later released as Gold Dust-Live At The Royalty.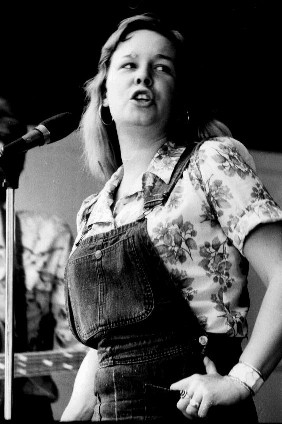 Sandy Denny was the foremost female folk-singer with a beautiful voice and real talented song writer in Britain in the late 1960's and early 1970's.
Sandy Denny was a wonderful singer over the frame of the British trad-folk.
Her sings having an eternal charm with expression technique which has the feature in treble and calm textures will be handed down from generation to generation forever.
Albums:
The North Star Grassman and The Ravens (Island ILPS 9165)
Sandy (Island ILPS 9207)
Like an Old-Fashioned Waltz (Island ILPS 9258)
Rendevous (Island ILPS 9433)
No More Sad Refrains-The Anthology (A & M 314 542 747-2)
Borrowed Thyme (SDCD03)
The Collection-Chronogical Covers & Concert Classics (SPECTRUM 98- 341-4)
A Boxful of Treasures (Fledg'ling Records NEST 5002)
She Maves Through The Fair (STAMFORD AUDIO STAMPLP1003)
I've Always Kept a Unicorn-The Acoustic (Island 536-735-0)
19 Rupert ST with Alex Campbell in Glasgou (WITCHWOOD MEDIA WMCD2053)
---
・My Favorite Music Sources Page
---


E-mail to
kouchi@cypress.ne.jp