Patrick Ball
Patrick Ball was born and raised in California and gave little thought to such things as where
his ancestors came from. He went to school and supposed, when he thought about it at all.
that he would one day be a lawyer, like his father. But he studied music from time to time
and over the years developed a nodding acquaintance with the piano and the guitar. At university
he continued his flirtatious relationship with music by playing the tin whistle, principally to annoy
his roommate. But at this time he found that he was irresistibly drawn to words, to the music of words,
to writers who made words sing, to writers from Ireland.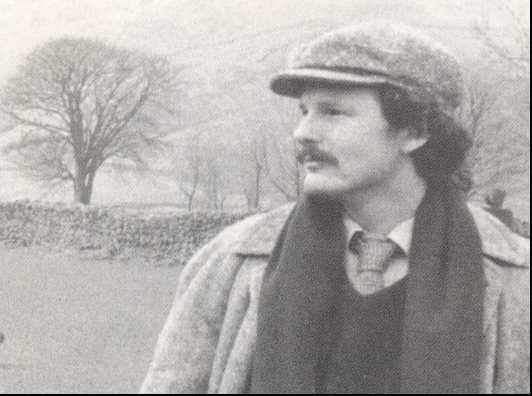 Patrick Ball
Then, when he began to study history to fulfill his academic requirements, he was not surprised to find
that it was the lyrical, turbulent history of Ireland that engaged him. So much so, in fact, that when his
father died all his thought of law school died with him. He enrolled in graduate school and soon made
his way to Ireland. There he fell in love with the eloquence and fire of the Irish oral tradition.
There he fell in love with the Celtic Harp. And there a few pieces of his life fell into place.
For he came to know that marvelous unity of Irish words, and history that would become his passion
and eventually, his livehood.
Patrick Ball is a Celtic harper and Irish story-teller who lives in Marin County, California.
The uniquely clear and resonant sound of the traditional wire-strung Celtic folk harp has been heared
only rarely since its playing became a lost art nearly two centuries ago. An ancient instrument, it is played
with the fingernails and demands far greater playing skill than the more familiar "neo-Irish" harp
with its softer gut or nylon strings.
The exquisite, bell-like tones and spacious resonance of the traditional wire-strung Celtic folk harp,
and the lyrical music of Turlough O'Carolan in a recording of exceptional freshness and clarity.
Albums:
Music of Turlough O'Carolan/Celtic Harp Vol.1 (FORTUNA 17005-2)
From A Distant Time/Celtic Harp Vol.2 (FORTUNA 17011-2)
Secret Isles/Celtic Harp Vol.3 (FORTUNA 17029-2)
O'Carolan's Dream/Celtic Harp Vol.4 (FORTUNA 17061-2)
The Ugly Duckling/Story by Hans Christian Andersen (WINDHAM HILL WH 0705)
The Christmas Rose (FORTUNA 17077-2)
---
・My favorite Music Sources Page
---

E-mail to
kouchi@cypress.ne.jp