Magical Strings
Philip Boulding started playing the Celtic Harp in 1975, in fulfillment of an inner inspiration,
although his training began with violin and guiter, which was interrupted by the beguiling hammered dulcimer
in 1971.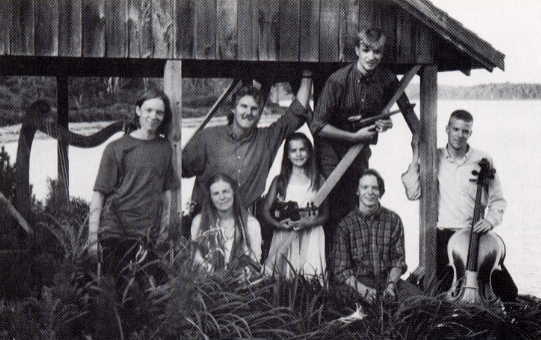 Philip Boulding, Pam Boulding and Family
A few years after establishing himself in the Northwest, he began the school of Magical Strings
where he met Pam. As an artist, with extensive training on the classical piano.
All harps and hammered dulcimers are designed and hand-crafted by Philip and Pam.
Pam describes her dulcimer compositions to be like her paintings and sculptures with "very similar
colors of and space between the moving forms."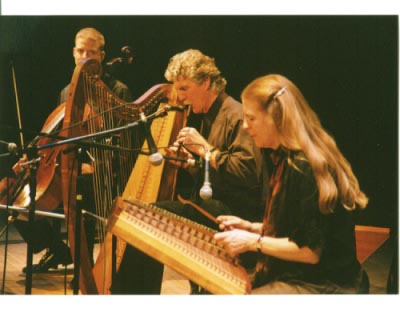 Thus began the collaboration that has created Magical Strings, fulfilling Philip's long standing dream
of combining the beautiful sound of these two ancient instruments.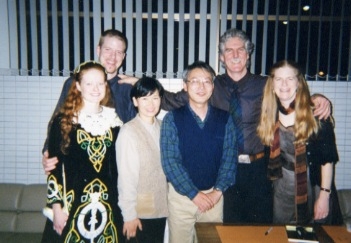 with Philip Boulding, Pam Boulding, Brenin Williams and his wife
Albums:
Song for Reconciliation (FLYING FISH FF 70527)
Springtide (FLYING FISH FF 70282)
Above The Tower (FLYING FISH FF 70360)
On The Burren (FLYING FISH FF 70416)
Crossing to Skellig (FLYING FISH FF 70531)
Good People All (FLYING FISH FF 70604)
Bell Off The Ledge (FLYING FISH FF 70631)
---
・My Favorite Music Sources Page
---

E-mail to
kouchi@cypress.ne.jp