Kate Wolf
Kate Wolf was born Kathryn Louise Allen in San Francisco on January 27, 1942.
She spent her early childhood in Oregon and Michigan, finally returning home to Berkley where she went school from sixth grade through high school.


Kate Wolf (1942-1986)
Kate started singing in the late 1950s in California coffee houses. She formed her first band, The Wildwood Flower.
She began a live radio show called Uncommon Country, and hosted the Sonoma Country Singers Circle.
Sonoma Country music shows brought her new recognition, and she was offered funding for an album.
With her knowledge of independent labels, she formed her own record company, Owl Records.
Money to finance the release was raised by fans in Kate's home town of Santa Rosa, Northern California.
In 1976, She released her first two albums "Back Roads" and "Lines on the Paper" on her own label. She sang lead vocals and wrote most of the songs.
It has a few rough edges, but it includes the original versions of some of the most enduring songs in her repertoire, including George Schroder's 'Red Tail Hawk' and Kate's 'Emma Rose.'
She's career started to take off, and she found herself needing more time to follow her muse.
She established another important working relationship, with Tom Diamant and his fledgling Berkley record label, Kaleidoscope.
When she and Wildwood Flower parted ways, she apprenticed Nina Garber.
She began national tour with trips throughout the Midwest and Northwest in 1977.
Her long-time friend Bruce "Utah" Phillips helped plan a tour back East where she played concerts and performed at the Philadelphia Folk Festival.
She's love for Canadian folk music brought her even greater recognition as she performed at the popular festival in Calgary, Winnepeg and Vancouver.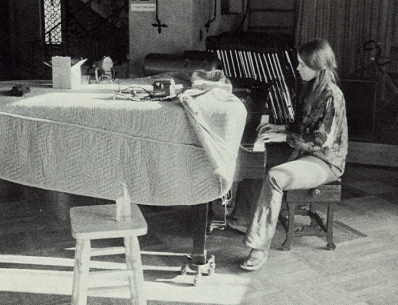 In 1979, She released her first true solo album, "Safe At Anchor" as a collection of love songs.
She was maturing rapidly as a songwriters, with vivid words pieces like 'Early Morning Melody' and the impressionitic 'She Rises Like the Dolphin' alongside the comforting title tune.
She continued to tour throughout the United States. Although her popularity grew, her concerts never lost their intimacy.
Whether she was playing to 500 people in a music hall, or 85 in a coffee house, her audience felt as if she had touched each one of them individuary.
Her music always had a strong impact on those who heard it.
In 1981, She released her forth album, "Close to You" was co-produced by Bill Griffin and Tom Diamant.
This album may be a masterpiece of her all recording, with pieces like 'Across the Great Divide' and 'Like a River' mining the timless new/old territory that Robbie Robertson's best work with the Band explored.
She continued to perform at concerts at benefits for group such as SEVA, Nukes and Big Mountain.
"Give Yourself to Love" a double length compilation of live recording made in Northern California in 1982-1983.
Around this time, She became involved with series of benefits put together by social activist.
She embarked on her final tour in the fall and spent two weeks on the East Coast playing from Boston to Florida, and toured through Michigan, Wisconcin and Minnesota.
In 1984, She released her last studio album, "Poet's Heart" was recorded at Griffin's studio in Santa Barbara.
And she had a secure national reputation in the folk world, and seemed poised for breakout.
She was tapped to perform on the prestigious Austin City Limits television show.
She performed an audio recording of her complete live performance by "An Evening In Austin.
" After several months, she experienced a notable drop in her usual energy level and was eventually diagnosed with acute leukemia.
As the news of her illness soread, she received support from fans and friends all over the country.
Despite of illness, she did manage to compose and perform a song from her hospital bed.
"The Wind Blows Wild" is one of her most elegant, stately songs, and last piece of music of music she recorded.
She also made time to select tracks and artwork for "Gold in California.
" Remembering how much Kate had given of herself to the causes and people she believed in, her friend and fellow musicians organized numerous concerts to benefit Kate in her time of need.
She was feeling strong and confident, but complications from the operation destroyed her immune system and at last she never recovered on December 10, 1986.
Her song, characterized by a strong narrative thread, are about the ebbs and flow of adult life, in terms that are neither overly sentimental nor mundane.
She describes family, romance and the rural life of her native Northern California with fine detail, projecting a sort of reserved sensitivity with her lower-than-average vocals.
Here is a voice wisdom, comfort and independence. She was a significant singer-songwriter folk based tradition on the folk scene between the late 1970s and mid 1980s.
I think her music deserves to continue forever. However, Kate's not here now.
Albums:
Back Roads (Owl OL-001)
Lines on the Paper (Kaleidoscope F-7)
Safe at Anchor (Kaleidoscope F-11)
Close to You (Kaleidoscope F-15)
Give Yourself to Love (Kaleidoscope F-3000)
Poet's Heart (Kaleidoscope F-24)
Gold in California (Kaleidoscope F-3001)
The Wind Blows Wild (Kaleidoscope F-30)
An Evening in Austin (Kaleidoscope K-36)
Looking Back at You (Rhino 71613)
---
・My Favorite Music Sources Page
---

E-mail to:
kouchi@cypress.ne.jp