Joni James
Joan Carmello Babbo was born 22 September 1930, Chicago, Illinois, USA. Growing up during
the Depression years, Joni James attended drama and dance lessons and organized a ballet club
in high school. Following graduation, she worked as a dancer and began singing.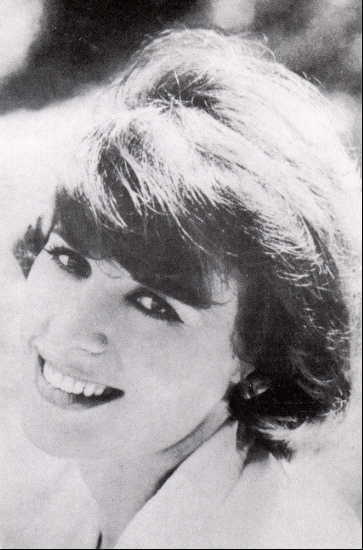 Joni James (1930- )
In 1952, she recorded her first tracks for MGM Records, with the second single, 'Why Don't You Believe Me',
becoming a million seller and number 1 hit on the US pop charts. Joni James next two singles,
the double-sided hit 'Have You Heard'/'Wishing Ring' and a cover of Hank Williams 'Your Cheatin' Heart',
were also major hits. Joni James hit the top 10 four more times up to 1955 with 'Almost Always',
'My Love, My Love', 'How Important Can It Be?' and 'You Are My Love'.

There must be a way.
Joni James continued to record for MGM until 1964, when the hits stopped coming she retired from
show business. However, we can listen to her singing great popular songs interpreted with great emotional
impact for ever.
Albums:
Let There Be Love (MGM 1953)
The Joni James Award Winning Album (MGM 1954)
Little Girl Blue (MGM 1955)
When I Fall in Love (MGM 1955)
In The Still of The Night (MGM 1956)
Among My Souvenirs (MGM 1958)
Song of Hank Williams (MGM 1959)
Joni Sings Sweet (MGM 1959)
Joni Sings Irish Favorites (MGM 1959)
At Carnegie Hall (MGM 1960)
I'm in The Mood for Love (MGM 1960)
Sings Hollywood (MGM 1960)
100 Strings and Joni (MGM 1960)
100 Voices, 100 Strings (MGM 1960)
Mood is Blue (MGM 1961)
Mood is Romance (MGM 1961)
Mood is Swinging (MGM 1961)
Sings Folk Songs (MGM 1961)
After Hours (MGM 1962)
I'm Your Girl (MGM 1962)
Something for The Boys (MGM 1963)
Beyond The Reef (MGM 1964)
Sings The Gershwins (MGM 1964)
My favorite Things (MGM 1964)
Put on A Happy Face (MGM 1964)
Italianissime (MGM 1964)
Bossa Nova Style (MGM 1965)
---
・My Favorite Music Sources Page
---

E-mail to
kouchi@cypress.ne.jp