Bob Dylan
The folk movement received its biggest boost in 1958. American folk music offered a comparatively clean
breath of righteous fresh air, having served as the rallying cry of liberals, lefties and outsiders through
the conservative Eisenhower era. The campus town of Cambridge, Massachusetts, had evolved a folk scene
of its own. Its leading lights were Joan Baez, Tom Rush, Jim Kweskin and Eric Von Schmidt- the latter
become Bob Dylan's host on his visits there.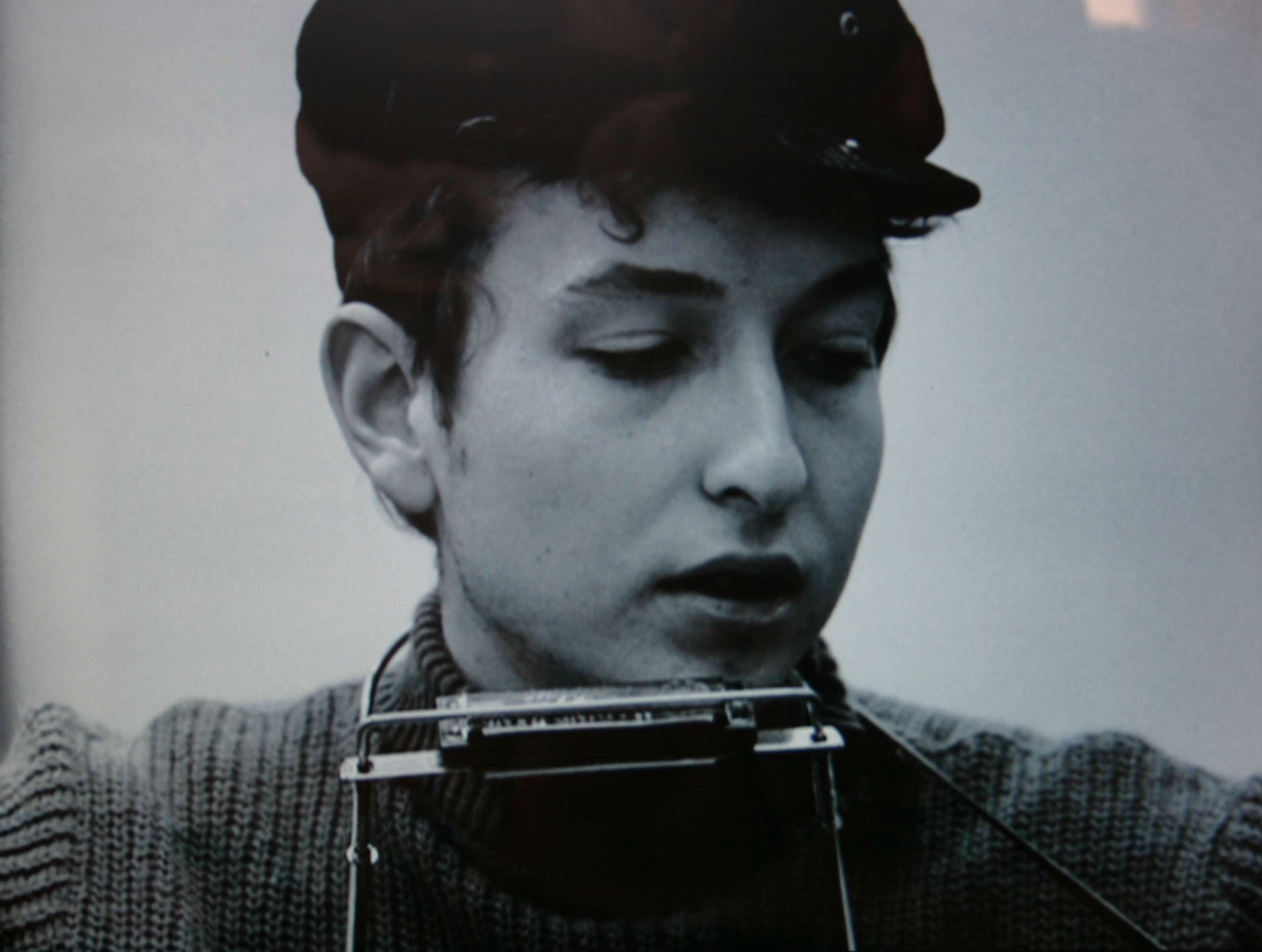 Bob Dylan
Bob Dylan recorded his first album in late November of 1961. He had been in New York less than a year,
most of it spent scuffling for low-paying gigs on the coffee-house folk music circuit based in Greenwich Village.
Folk music had joined jazz as the hip musical choice of bohemian beatniks and students. Asly commentary
on his early days in the New York folk scene done in the talking blues style popularized by his hero Woody
Guthrie.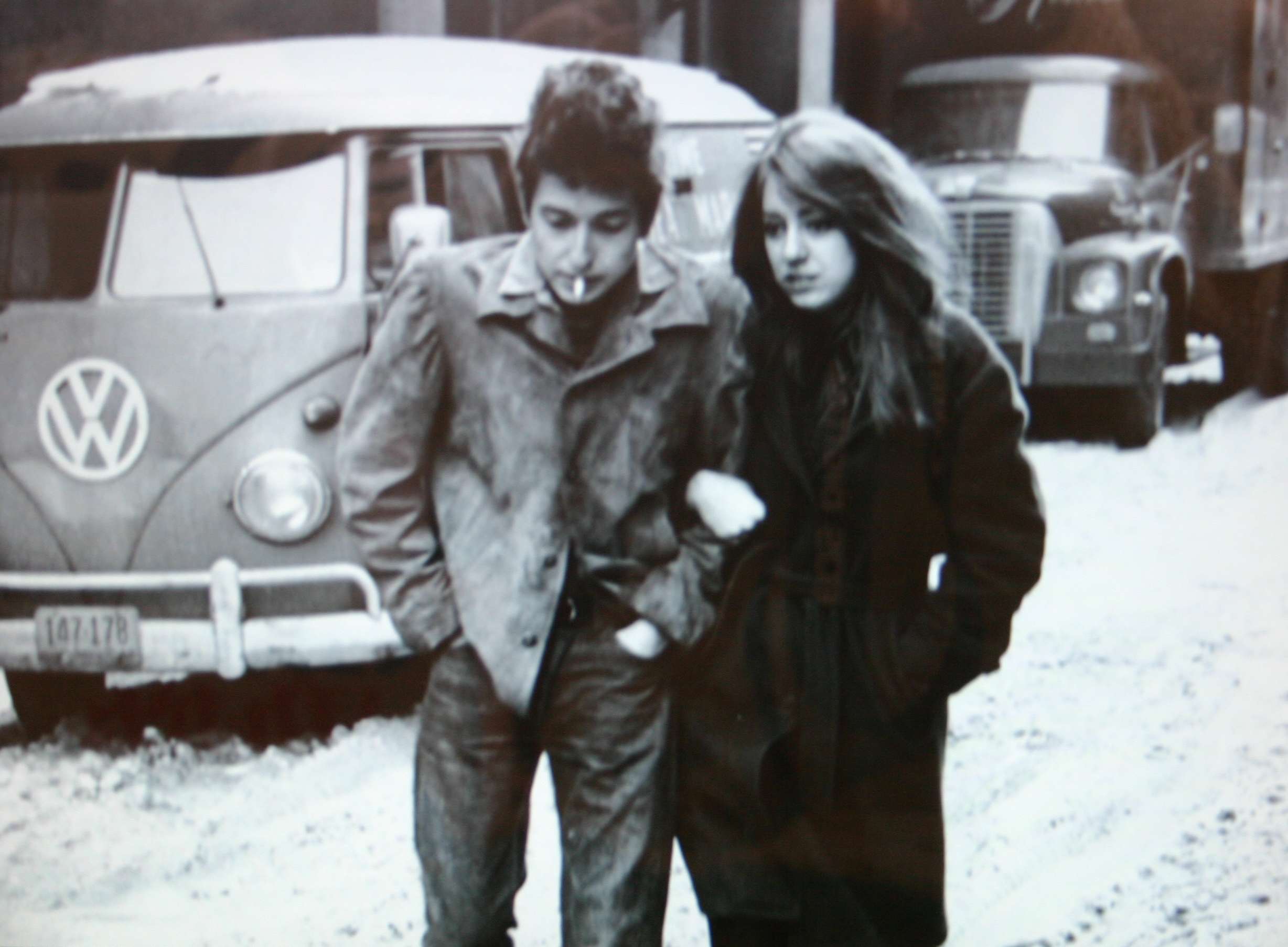 Bob Dylan and Suze Rotolo
After the poor sales of his debut album, there was talk at Columbia of Dylan's contract being dropped
before he could make a second record. "The Freewheelin' Bob Dylan" album was the first of a masterpieces.
There are two basic driving forces behind this album: Dylan's involvement in the civil rights movement
and his girlfriend Suze Rotolo's absence in Italy, which spurred him into a prolific fever of songwriting.
This album was released on May 27, 1963, with a cover photo of Bob and Suze strolling happily down
a slush-covered 4th Street. But Dylan was on the far side of the country, following his May 18 appearance
at the Monterey Folk Festival by spending a fortnight -unknown to Suze- at the Carmel pad of his new friend,
Joan Baez.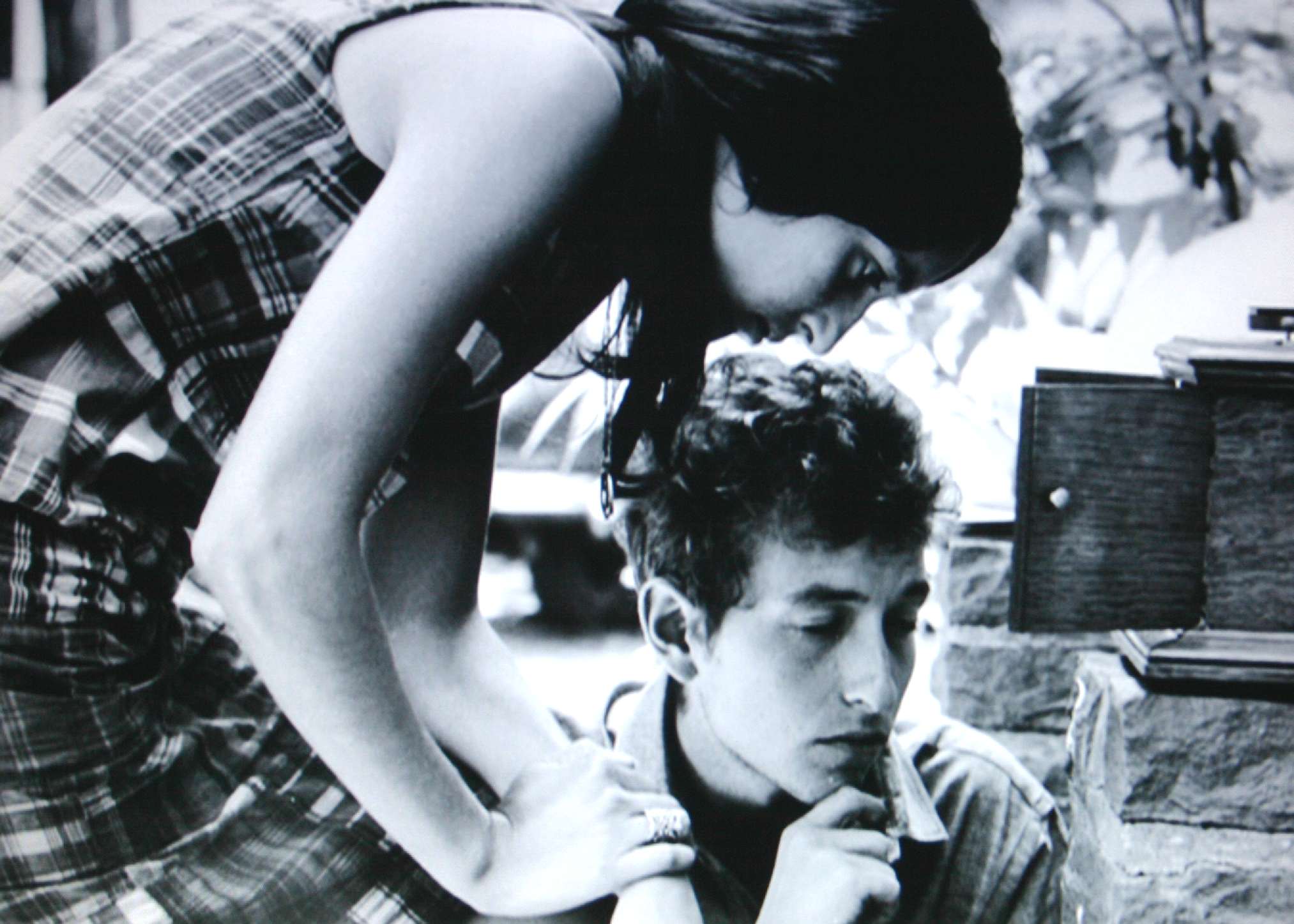 Bob Dylan and Joan Baez
On August 28, 1963, Dylan parttipated in the March on Washington, one of the seminal civil rights events
of the 1960s, culminating in a huge gathering at the Lincoln Memorial in Washington DC, the highlight of which
was the famous "I have a dream" speech by Martin Luther King. Dylan's performance is captured in part
on the album "We Shall Overcome" released in 1964.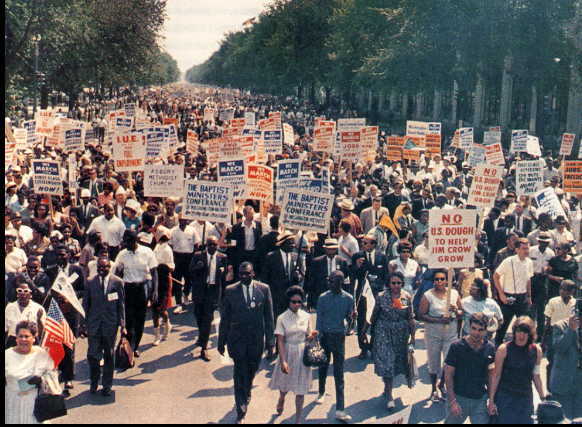 The March on Washington, August 28, 1963
In January of 1964, "The Times They Are A-Changin' " was released. Bob Dylan became the hottest property
in American music, stretching the boundaries of what had previously been viewed as a largely collegiate
folk-music audience. This album would establish him as the undisputed king of protest music.
In August of 1964, "Another Side of Bob Dylan" and in March of 1965, "Bringing It All Back Home" were
released. And Bob Dylan went with Newport Folk Festival in July 25, 1965.
This is Dylan's very first electric public appearance. Dylan had only intended to perform new music with Mike
Bloomfield on electric guitar, Al Kooper on piano, Barry Goldberg on organ, Jerome Arnold on electric base
and Sam Lay on drums. Dylan was booed off the stage. Through electric performance, the most part of
the general idea of folk music until the then has been overturned. It didn't need to stick to acoustick sound
and the traditional tune any more, and a folk scene locked, and it was recognized that it was important
tradition rock and roll, R&B country music of American music, too.
In May of 1966, "Blonde On Blonde" and "Highway 61 Revisited" were released, and Dylan held the 1966
World Tour with the Hawks. Manchester Free Trade Hall in May 17 and Royal Albert Hall in May 26, 27
of this tour were the best live show in history by electric version. Their music were dynamic, powerful
and like none other being performed at the time. Dylan's songs were so dramatic that slowing them down
was the only logical way to present such profoundly different rock and roll, and the effect was stunning.

In July 29, 1966, Dylan was badly injured in an accident while out riding his motorcycle on Striebel Road,
near his home in Woodstock. Dylan started into the secluded life in Woodstock for about two yeares and
grabbed gratefully at the oppotunity to take time out from his schedule to recuperate. As luck would have it,
the Hawks had moved into a large pink house which it is called "Big Pink" of West Saugerties in the northeast
of Woodstock. Dylan and the Hawks were coming to terms with life as a group, trying to find their own sound
in their own time. The results, never intended for consumption, would take on legendary status when they
were bootlegged as "Great White Wonder", and were eventually officially released as "The Basement Tapes"
in July of 1975. Dylan and the Hawks conjured up a raw and rootsy, joyful, juicy sound in which fear and frolic
co-existed in the same notes, a raggedy blanket spun from strands of country, R&B and gospel music.
In October and November of 1967, Dylan made three trips down to Nashville to record what would be
released as "John Wesley Harding" in January 1968. This album was feautured bassist Charlie McCoy and
drummer Kenny Buttrey. Pedal steel guitarist Pete Drake was added on a couple of cuts. The sleeve photo
summed up the woolly western atmosphere of the country-rock album.
Following the release of the previous album, Dylan made a public appearance in January 1968. Dylan with
the Hawks appeared on Woody Guthrie Memorial Concert. Dylan and the Hawks celebrated Guthrie's life
with rousing rock versions of Woody's songs. And Dylan with the Hawks appeared on Pop Festival in Wight Isle
in August, 1968. Then, the Hawks made its debut as the Band by "Music from Big Pink" released officially.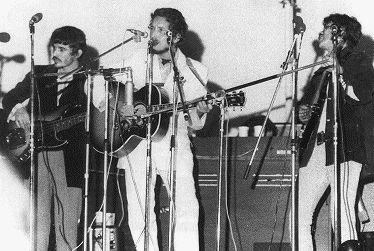 Pop Festival in Wight Isle, August, 1968
Dylan released "Nashville Skyline" in May, 1969. This album suggested that his time spent in rustic seclusion
had alienated him from the world outside the gates of his own personal Eden, with its country lyrics and highly
tuneful love songs, riding comfortable cushioned on the Nashville sound.
Bob Dylan was a painfully honest songwriter, whether reflecting upon the charged political situation of
the time, or upon his own turbulent personal life. through many beautiful songs, Dylan sent coded messages to his legion of fan,
who eagerly attempted to decipher them for clues as to his intentions and character.
Dylan was a protest singer, and through the subsequent changes which saw him invent folk-rock and transform
rock and roll with symbolist poetry. Dylan is stated his music as follows. "We've been playing this music since
we were ten years old. Folk music was just an interruption and was very useful. If you don't like it, that's fine."
Dylan of the 60's always pushing himself to extend the boundaries of his art.

---
・My Favorite Music Sources Page
---


E-mail to
kouchi@cypress.ne.jp